065: Alakazam

Type(s)

Base Stats
HP
55
Sp. Atk
135
Attack
50
Sp. Def
85
Defense
45
Speed
120
Exp
186
Money
65
Pokémon
← Previous

Next →

Normal Sprites
Description
Alakazam is a Psychic-type Pokémon. It evolves by trading a Kadabra, and is the final evolution of Abra. Like its pre-evolutions, Alakazam looks like it is wearing armor. Its mustache has also grown and it now wields two spoons, which may show the mastery of its psychic powers. Its brain cells multiply continually until it dies--as a result, it remembers everything. Closing both its eyes heightens all its other senses. This enables it to use its abilities to their extremes. Its highly developed brain is on par with a supercomputer. It can use all forms of psychic abilities. Its superb memory lets it recall everything it has experienced from birth. Its IQ exceeds 9,000.
Evolution
-- Lvl 16 -->

-- Trade -->
Location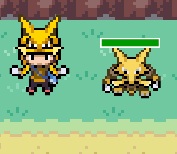 Shiny
Shadow
Trivia
Alakazam is one of the few Pokémon that have an avatar in their image.
Currently, Alakazam has the second highest Special Attack stat, namely 135.
Gary's Alakazam is special, because Alakazam can only learn Gravity through breeding.
Move Set
Damage Taken