This challenge level is a harder version of Celadon Gym. Not only is the ally Celebi removed, but you are also given six Pokémon to use. A shiny Magnemite is awarded upon victory.
Layout
Waves: 16
Spots: 19 [12 Normal (2 Taken), 7 Grass Only]
Defending: Rare Candy
Pokémon
Challenge Pokémon
Pokémon
Level
Known Moves
Charizard
47
Fire Blast, Flamethrower
Mr. Mime
47
Psychic, Wide Guard
Venusaur
47
Synthesis, Toxic Spikes, Sleep Powder
Fearow
47
Drill Peck, Roost, Leer
Tangela
47
Wring Out, Mega Drain, Growth
Vileplume
47
Poison Powder, Acid, Moonlight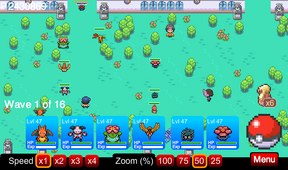 Ad blocker interference detected!
Wikia is a free-to-use site that makes money from advertising. We have a modified experience for viewers using ad blockers

Wikia is not accessible if you've made further modifications. Remove the custom ad blocker rule(s) and the page will load as expected.