Cerulean Gym 2

Icon for the Level
Previous level
Cerulean Gym 1
Next level
Route 24
Objective
Defend your Rare Candy against Misty's Kyogre to receive the Cascade Badge.
Money Rate
x1

Cerulean Gym 2 is the 11th level added to the game, and the second part of the second gym challenge. After you beat her, Misty will give you the Cascade Badge.
Layout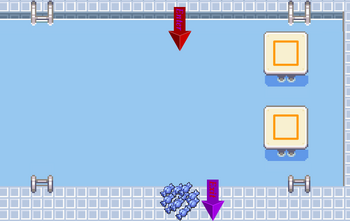 Boss
Strategy
Main article: Forum:Cerulean Gym 2
A good stratagy is to get a pokemon with both
Charge Beam
(or any move to increase sp. attack) and
Thunder
.
use Charge Beam (or your move of choice) and when the pokemon has sp.attack up by 6 (max) switch to Thunder .
It will go quicker if you have 2 pokemon like this.
Charge Beam and Thunder are both TM's
Pikachu is an electric pokemon early on in the game that can learn both moves.