Cerulean Gym 2

Icon for the Level
Previous level
Cerulean Gym 1
Next level
Route 24
Objective
Defend your Rare Candy against Misty's Kyogre to receive the Cascade Badge.
Money Rate
x1

Cerulean Gym 2 is the 11th level added to the game, and the second part of the second gym challenge. After you beat her, Misty will give you the Cascade Badge.
Layout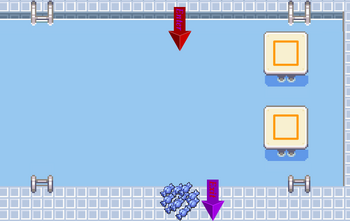 Boss
Strategy
Main article: Forum:Cerulean Gym 2
Use 2 Pikachu/Raichu or 1 Pikachu/Raichu and 1 Ivysaur
Ad blocker interference detected!
Wikia is a free-to-use site that makes money from advertising. We have a modified experience for viewers using ad blockers

Wikia is not accessible if you've made further modifications. Remove the custom ad blocker rule(s) and the page will load as expected.