Cinnabar Gym is the 33rd level in Pokémon Tower Defense.
Description
Edit
The level begins with Pikachu and Kyogre leaving for Pallet Town, preparing for the battle with Mewthree. You, Joey, and Maruto are still on Cinnabar Island when Blaine appears. He reveals that he created Mewthree. He then wishes to train you and challenges you to a battle.
After beating the level you may choose a prize of Shiny Omanyte or Shiny Kabuto. However, if no candy is lost in defeating the level, you are given Shiny Aerodactyl.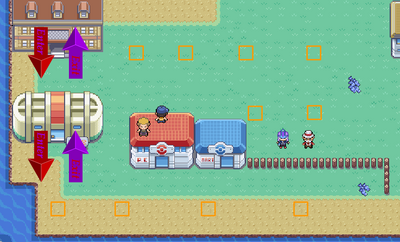 Rare Candy: 8 (5 above, 3 below)
Spots: 10
Waves: 10
How To Win
'One way to win is by a golem with earthquake, a gyarados with hydro pump and rain dance, three charizards with bulldoze and a seeking with and horn drill. All pokemon need to be level 100. First you need to do is let the gyarados do rain dance. The gyarados must be above. Then you need to do with the three charizards bulldoze. Two need to be under one above. Then you need to let the golem do earthquake. The golem must be under. Then when it is raining you need the gyarados do hydo pump. If the golem is almost fainting you need to give it three super potions. If golem is fainted you need to use all pokemon from above to let faint all pokemon that are under. And if all pokemon under are fainted (except the legendaric one) you need to let the seeking do horn drill and faint the pokemons.
Boss Pokémon
Pokémon
Move Used
Vulpix
Will-O-Wisp
Ninetales
Will-O-Wisp
Arcanine
Helping Hand
Ponyta
Agility
Rapidash
Agility

Moltres (top)

Fire Blast
Entei (bottom)
Fire Blast
Originally you could get unlimited shiny Aerodactyl by beating the level without losing any candy, but Sam fixed the glitch.
Moltres and Entei do not take rare candies and are at level 90.
There is a chance for a shiny boss to appear in the level.
Main article: Forum:Cinnabar Gym