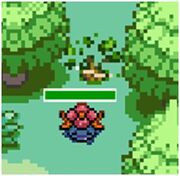 The target is cut with a scythe or a claw. It can also cut down trees.
Cut is received by defeating Diglett's Cave level in Chapter 4. Click the Red TM/HM icon that shows your money on the left side of the training screen to learn it.
Cut can be received in Pokemon Tower Defense 2 by defeating a Farfetch'd and talking to a trainer in the Ilex Forest.
Effect
Learned By
By Using HM
Trivia
If Abra is on the field, Professor Oak will appear and make a new move available, HM Flash, which is required to enter Rock Tunnel.