094: Gengar

Type(s)

Base Stats
HP
60
Sp. Atk
130
Attack
65
Sp. Def
75
Defense
60
Speed
110
Exp
190
Money
70
Pokémon
← Previous

Next →

Normal Sprites
Description
Gengar is a purple-furred Pokémon with a roundish body. Unlike Haunter, Gengar's hands connect to the rest of its body and it now has a pair of legs. Gengar has a spiky fur-covered back. Upon evolution, Gengar's eyes become red. Its mouth is usually curled into a sinister grin.
Under full moons, the Pokemon like to mimic shadows of humans and laugh at their fright. It can levitate like its pre-evolutions even though it has legs.
Evolution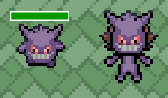 -- Lvl 25 -->

-- Trade -->

Location
Shiny
Shadow
Trivia
Gengar is one of the only 4 Pokémon that must be traded in order to evolve (the others being Machamp, Alakazam, and Golem).
One of the Halloween Avatars is Gengar, in Male and Female version.
Abilities
Move Set
Damage Taken
Ad blocker interference detected!
Wikia is a free-to-use site that makes money from advertising. We have a modified experience for viewers using ad blockers

Wikia is not accessible if you've made further modifications. Remove the custom ad blocker rule(s) and the page will load as expected.