In Hacked PTD, you can gain more money, gain way more EXP, and Pokemon are catchable in one hit (Boss Pokemon are still not catchable). The front page also says "Hacked Version" in red. The pokemon trained, used or caught in the Hacked Version bares a distinct "Hacked Tag" and widely reduces the value in the trading communty. However, many people do not care if it is hacked or not, as they are the same pokemon, just with a hacked tag. in battle, if the pokemon has gained any exp., their HP bar will turn red.
Mystery Gift: To get access to a mystery gift on hacked pokemon tower defense you have to click "Get Mystery Gift", which then brings you to a new tab, the place is called "Play tower defensegames.com". After that, you will be able to validate your code when you log in, but only if they are still valid.This pokemon game can help you level up your pokemon easier and easy to catch pokemon you want unless the bar is blue.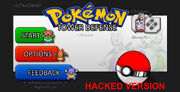 Ad blocker interference detected!
Wikia is a free-to-use site that makes money from advertising. We have a modified experience for viewers using ad blockers

Wikia is not accessible if you've made further modifications. Remove the custom ad blocker rule(s) and the page will load as expected.