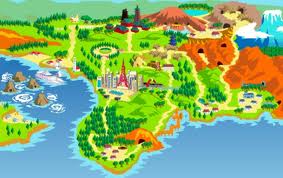 Johto is a separate region of the Pokémon world and the setting for the 2nd generation of Pokémon games (and their remakes). As such, Johto will also be the setting for the sequel to PTD.
Storyline
Johto is briefly mentioned in the opening cutscene of Pokemon Tower 1 as Joey asks Sam for more coins, a Totodile, and a Crobat. Sam calmly replies that to get

those Pokémon, one would need to head to Johto. Joey also sang the theme song of The Johto Journeys series of the anime.
In the Celadon Gym opening cutscene, Celebi mentions that the player will save the world again from another villian in Johto.
Giovanni also mentions the Johto Champion in Lavender Town, admitting to having been defeated by him.
During the introduction to Viridian City, Gary mentions Gold, the Johto champion and protagonist of the main-series games, Pokemon Gold, and Pokemon Silver.
The new game Pokemon Tower Defense Generations is be featured in Johto.
Pokémon
A few Legendary Pokémon from the Johto region have appeared in PTD.
Trivia
Johto is on the same continent as Kanto.

This is shown in the main games because you can travel between each other by surfing on a small lake between Tohjo Falls and New Bark Town.
Ad blocker interference detected!
Wikia is a free-to-use site that makes money from advertising. We have a modified experience for viewers using ad blockers

Wikia is not accessible if you've made further modifications. Remove the custom ad blocker rule(s) and the page will load as expected.