Ad blocker interference detected!
Wikia is a free-to-use site that makes money from advertising. We have a modified experience for viewers using ad blockers

Wikia is not accessible if you've made further modifications. Remove the custom ad blocker rule(s) and the page will load as expected.
There are 42 Story Levels and 6 Challenge Levels in PTD 1. In PTD 2, however, it is like Pokémon HeartGold/SoulSilver. You walk around, but there are levels, like Gyms are bosses. In PTD 2, there are 44 Story Levels, therefore the 4 World Tournament levels being the final 4 then the final boss.
The levels in PTD 1 after Rock Tunnel's Onix battle have you getting attacked by the enemy Pokémon, excluding training levels (all levels may include enemies that buff themselves).
List of Levels (PTD 1)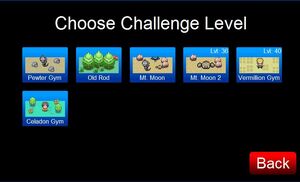 List of Levels (PTD 2)
Chapter 1
3. Route 29
5. Route 30
6. Route 31
7. Dark Cave
8. Violet Gym
9. Shadow Realm
Chapter 2
10. Route 32
11. Ruins of Alph
12. Shadow Realm 2
13. Shadow Realm 3
14. Union Cave
15. Route 33
16. Slowpoke Well
17. Azalea Gym
Chapter 3
18. Ilex Forest
19. Route 34
20. Goldenrod Gym
Chapter 4
21. Route 35
22. National Park
23. Route 36
24. Route 37
25. Ecruteak Gym
Chapter 5
26. Route 38
27. Route 39
28. Olivine Gym
Chapter 6
29. Route 42
30. Mt. Mortar
31. Route 43
32. Lake of Rage
33. Mahogany Gym
Chapter 7
34. Route 44
35. Ice Path
36. Dragon's Den
37. Blackthorn Gym
Epilogue
38. Route 45
39. Route 46
44. Save the World
Gym Challenge Mode
1. Vs. Brock
2. Vs. Misty
3. Vs. Surge
4. Vs. Erika
5. Vs. Koga
1v1 Mode
1. Oak's Lab
3. Viridian Forest (past)
5. Pewter Gym Entrance
6. Pewter Gym Entrance 2
7. Pewter Gym
8. Route 3