Maruto is an odd challenger first seen at
Cerulean Gym
.
Maruto was placed in the game referencing the anime character Naruto, from the hit anime series Naruto, and Naruto: Shippuden. Maruto has 2 Pokémon which actually refer to things from Naruto. The Ninetales refers to the nine-tailed demon fox that was sealed within Naruto at birth, and his Poliwhirl is a reference to the seal on Naruto's belly being swirled like Poliwhirl's swirl. Both Maruto and Naruto are blond-haired, and Maruto is just as poorly dressed as Naruto.
Both Maruto and Naruto's catch phrase is "BELIEVE IT!," and both have said "WHAT DO YOU KNOW!?" before. The two characters are also loud and boisterous.
It was revealed in the cutscene to Route 15 that he is in possession of Kyogre.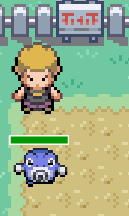 Appearances
Team
Gallery
Ad blocker interference detected!
Wikia is a free-to-use site that makes money from advertising. We have a modified experience for viewers using ad blockers

Wikia is not accessible if you've made further modifications. Remove the custom ad blocker rule(s) and the page will load as expected.