The Money stat controls how much money a Pokémon awards upon defeat. The money can then be spent at the Pokemart, Move Relearner, or the Pokemon Center. Additionally, each stage has a money multiplier that may multiply the Money stat of the stage's Pokémon.
Pokémon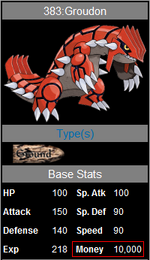 The following Pokémon have the highest Money stats in PTD:
---
The following Pokémon have the lowest Money stats in PTD:
Levels
In addition to a Pokémon's money stat, each level in PTD has a Money Rate, which multiplies the money gained per enemy defeated. The following levels have the highest Money Rates in PTD:
Full List
Ad blocker interference detected!
Wikia is a free-to-use site that makes money from advertising. We have a modified experience for viewers using ad blockers

Wikia is not accessible if you've made further modifications. Remove the custom ad blocker rule(s) and the page will load as expected.