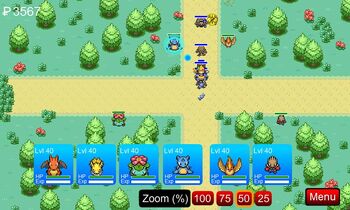 This map was released in v5.3 as a replacement to the Old Rod map. Unlike the old map, this map has a 4-way path, so attacking Pokémon are able to enter from 4 different directions. Defending Pokémon still have only 1 move. The Attacker must get all 4 Rare Candy without using up all their energy; Defenders must prevent the Rare Candy from being stolen.
For the Attacker, there are numbers on the right top corner to choose which path to use: the top one is the first, the right path is the second, etc.
Pokémon
Ad blocker interference detected!
Wikia is a free-to-use site that makes money from advertising. We have a modified experience for viewers using ad blockers

Wikia is not accessible if you've made further modifications. Remove the custom ad blocker rule(s) and the page will load as expected.