Mystery Gift (PTD2)
Comments

987
1,007pages on
this wiki
Mystery Gift is an option on the home menu allowing you to obtain Pokémon or Avatars with special codes found on Sam's site. All of the public giveaways have been Pokémon or Avatars.
If you're looking for the PTD1 Mystery Gifts, go here: Mystery Gift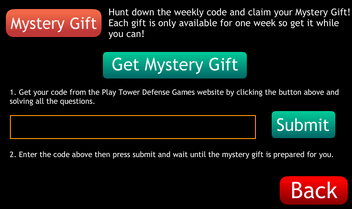 How To Receive
On PTD2, the code can only be put in the mystery gift section in the PTD2 of playtowerdefensegames.com, unlike in PTD1 where you only had to go there for the weekly code. Then enter "Mystery Gift" on the game menu and type or paste the code in. Then click the "Submit" button. Mystery Gift codes can only be used once on an account. Sam's codes are not case sensitive.
At the current time, all Pokémon Tower Defense Generations codes give one male and female pair for each Pokémon, and the code can only be entered once on accounts.
The special codes are codes in which can have a one pokemon of 500 or 1000 available.
Next Code
Shiny (Temporary) & Shadow (on 5/24/13) Celebi: q9a13r44
Active Code
Shadow (Temporary) & Shiny Tropius: kf4e1754
Special Codes
| Name | Code | Picture |
| --- | --- | --- |
| Shiny Ferroseed | spkyseed | |
| Shadow Mienfoo | weaselfo | |
| Shiny Feebas | prtyugly | |
| | batterys | |
| Shiny Solosis | cellular | |
| Shiny Torkoal | smokynos | |
| Shiny Scraggy | headbuty | |
| Shiny Beldum | dumbell | |
| Shiny Litwick | imacndl | |
| Shiny Luvdisc | luvSnd | |
Expired Codes

Shiny (Temporarily) & Shadow Timburr: d63347c4
Shadow Buizel: 4yz52574

Shiny Rotom: ptoc58c4
 Shiny Ralts: fe71b264

 Shiny Darumaka: m64g14z         
 Shiny Absol: 755A1234

Shiny Spheal: 8355S2B4
Shiny Aron: X29633B4

Shiny Duskull: K8983T34

Shiny Gible: GivMeGib

Shiny Shelmet: 6y245304

Shiny Karrablast: 55465464

Shiny Cranidos: Y303N814
Shiny Skorupi: 36B56314
 Shiny Trapinch 7D372G14
Shiny Treecko BS3032H4

Shiny Oshawott: 3D2C2YZ4

Shiny Chimchar: 52310WQ3

Shiny Jirachi: 460R3T34

Shiny Swablu: 84871514

Shiny Shinx: 5543v454

Golett: 9B2G9034

Vanillite: 9L744S54

Riolu: 934P2CD4

Zorua: 26442TT6