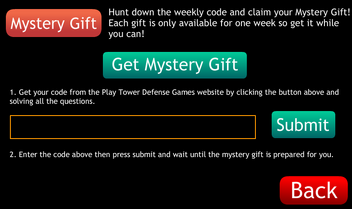 Mystery Gift is an option on the home menu allowing you to obtain Pokémon or Avatars with special codes found on Sam's site.
You can vote for the type of Pokémon you wish to be the next Mystery Gift on the blog. When that is chosen, you can also choose which Pokémon of that type you want to be the next Mystery Gift on the blog as well. But Sam doesn't do those polls anymore, now he is going in Pokédex order and choosing for himself. [1]
How to Receive
On PTD 2, the code can only be put in the Mystery Gift section on playtowerdefensegames.com, unlike in PTD 1 where you only had to go there to hunt for the code. Then you would click on Mystery Gift on the game menu and type or paste the code in, then click on the Submit button. Mystery Gift codes can be entered as many times as desired on any account which are also not case sensitive.
At the current time, all PTD 2 codes give one pair that are Male and Female for each time the Pokémon code is entered, which can be entered infinitely on accounts as of the Shelmet code.
As of the Buizel code, entering the Mystery Gift code on Thursdays will earn you a Shadow version of that Pokémon as opposed to the Shiny Giveaway code that Sam does when a new Mystery Gift is out.
As of the Piplup code, entering the code will no longer earn you a Shiny version of that Pokémon, but a Normal. Therefore, you must breed it to get a Shiny version of that Pokémon as opposed to the Mystery Gifts before the Buizel code where you had to breed to get a Shadow version of that Pokémon, which is pretty hard. Although Shadow versions will still be obtainable on Thursdays and Giveaways will still be Shiny for some of them.
The special codes, or Giveaway codes, are codes in which can produce one Pokémon of 500 available. These Pokémon are the second-most voted Pokémon by PTD fans and are Shiny, who lose only to the top voted Pokémon which becomes the main Mystery Gift. When the screen says "This code was only valid for the first 500 players that used it and is no longer valid.", then 500 people have already used the Special Code and is therefore no longer active.
For Sam's birthday in November 2013, a Kyurem was given out for the weekly Mystery Gift and the Shiny version was given out as the Giveaway. Shadow Kyurem was also available on Thursday that week.
Active Codes
| | | |
| --- | --- | --- |
| Pokémon |  Code | Picture(s) |
| Shiny Noibat |  nebat | |
| Fennekin |   fennecfx | |
Expired Codes
Special Codes
Normal Codes