When playing PTD2, there are shadow pokemon attacking. Slowly, this plot will lead you into something deeper, that (probably) threatens the world.
Towards the First Gym
The game starts off with you in a completly white area with no details at all. You have all three starter pokemon. Suddenly, shadow pokémon attack and you are forced to defend yourself.
After beating the shadow pokémon you wake up realizing it was just a dream. Your mom tells you to get your starter pokemon from Prof. Elm, so you leave. On the way, people congratulate you for being able to get a pokemon.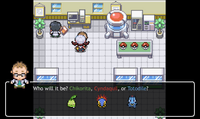 Your choice of a starter pokemon.
You enter Elm's lab and he tells you to choose Chikorita, Totodile, or Cyndaquil. After choosing, you leave his lab. Immediatly, your starter runs away. You ask around to see if anyone has seen it, and all evidence points to that small area above New Bark Town.
You enter it, and you see all three starters, including yours, being attacked by shadow pokémon. You use your starter pokemon to defend the other two, and then report this to Prof. Elm. He calls the police to block the place.
Silver, your rival, calls you over to do battle. You accept, and win. As if on cue, Prof. Elm calls you over again. You head over and recieve the PokéPad. Heading out, you see Silver in a fight with a guard. He tells you to sneak out in to Route 29 while he distracts the guard.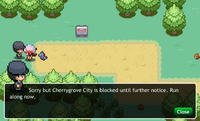 All the areas are blocked off due to the shadow pokemon attacks.
There are Hoothoot, Pidgey, Sentret, and Rattata. You head over to Cherrygrove, noticing that there are guards blocking every exit here, too. Apparently, an attack of shadow pokemon is a major crisis. Speak to the guard at the end of the route and Silver, Zai, and the Prof will come. Then, you will apear in Cherrygrove City. At night there is a possibility that a Shadow Rattata and Sentret can appear in tree gaps.Shadow Hoppip and Pidgey is found during the berry battle with Zai.(Can someone please tell Sam that the layout for the berry battle is messed up?)
Zapdos will apear and you, Zai, Prof.Elm, Silver and Gary will need to stop it. After beating Zapdos, Ash will apear with Lugia and calm Zapdos. Giovanni will apear with Shadow Mewthree and capture Lugia then goes away. The old man standing at his house will give you Running Shoes.
After defeating Zapdos, you can advance into the next area, Route 30, where there are two houses you can not yet enter, signs that you can read, pointing out the directions. As well as that, there are some more Pokemon to catch, depending on your game, if playing Gold you'll come across Caterpies, Metapods, Pidgeys, Rattatas and Hoppip.
The route directly after Route 30. Falkner waits at the end of the route, and you challenge him. After you beat him you will have access to Violet City and Falkner will go to his gym in Violet City. There is also a north entrance to dark cave.
It has no current involvement with the story. It contains Zubat and Geodude at all times. There is an occasional Dunsparce that will be in few waves of Zubat and Geodude.
This is the first city with a gym. After beating Falkner, you can come here and have a rematch at the entrance of his gym. There is a sage running around panicing at the south right corner of Violet City. He will tell you that the leader was kidnaped. Go to sprout tower and defeat one of the shadow bellsprout. Go back to where you found the sage and talk to ash. Giovani will summon mewtwo and cause you, ash, gary, zai, silver, and the others into a dark and negative area. To escape, you have to beat lugia. The story continues south of violet city.
To the north left corner there is a man willing to trade an Onix for a Bellsprout.
Towards the Second Gym: The Spreading Shadow Pokemon
When you reach this , first you must fight some Unown to examine some of the rocks .After that , Red and Gary must appear out of the Ruins and tell you to examine it again , returning there ,you will see all Unowns in shadown form and a Shadow Entei too , beat him and prevent the S.Unowns of taking the rocks [again] .After that , talk with Red and Garry again to proceed.  [Tip: Beating him maybe can be difficult , try to block his fireballs with a fire pokemon , and constantly shocking him to make him paralyzed [or confused] 
You can encounter Wooper and Mareep when you fight them there will be 3 rare candies and 9 spots and 2 ways. There are also Hoppip and Ekans. Wooper comes at night and mareep for day. To the left is the ruins of alph and to the south is route 32 You find your first official mid-route trainer, the "happy fisherman", who has different pokemon each day of the week (Tentacool, Magikarp and Qwilfish). By beating one type of fish for all 15 waves, you get the old rod. For beating all 3 fish pokemon, you get the good rod. At the bottom of Route 32 there's a path. Go through the path, there will be a cutsene, after that you will have to fight a clone of Mewthree. If you lose, then you will say that you dreamt that Mewthree captured you, so don't worry if you lose. If you do beat the Mewthree clone then you will return to Route 32. Celebi will apear and tell you that it brought you back to the time before Mewthree's attack and will offer a choice to save the world. You will agree (Obviously) and Celebi will bring you to the past.
The Past
New Bark Town (From the past)
You will see Gold and Silver together, Gold has a Typhlosion and Silver has a Feraligatr. They are preparing for the Pokémon World Tournament. All of the houses are open besides Silver's house.
Route 29 (From the past)
As you enter Route 29, a trainer with a Jumpluff Lv. 27 will underestimate you (or overestimate if you lose since you're a crappy trainer) and battle you. If you beat her, after the battle she will give you lots of pokédollars. You can rebattle her, but if you do, you will only get 1 pokédollar. This place has the same pokemon as the present.
Route 46 (From the past)
There is also a trainer in this route that will battle you. He has a Primeape Lv. 30. Like the other trainer, he will give you Pokédollars If you beat him and one pokédollar if you beat him again in (This happens with all trainers). Like Route 29 there are still the same pokemon here.
Cherrygrove City (From the past)
The trainer here is found at the beach and has a Quagsire Lv. 27. The Pokémon Center just has Nurse Joy in it. Talk to her and she will ask you how long you want to sleep there. In the Pokémart, you can buy a Potion for 50 poke dollars, Paralyze heal for 25 poke dollars, Antidote for 20 poke dollars and Awakening for 25 poke dollars.
Route 30 (From the Past)
In Route 30 there are some houses which you can enter now. One of the houses belongs to Mr Pokémon. There are  three trainers. One of them has a Rattata Lv. 27. The another trainer at Route 30 has a Pidgeotto Lv. 27. The next trainer has Butterfree Lv. 27.
Route 31 (From the Past)
The trainers in this route have the same pokemon as in the present. If you go the same way as in the present you will get to Violot city. The only trainer has a Beedrill Lv.27.
Violet City (From the Past)
This city with a gym is now full of trainers unlike in the present. As usual you can find the Pokémon Center and Pokémart, but the Onix trade does not exist here. In the school, each schoolkid has an 1st-stage evolution of the starters - Bayleef, Quilava and Croconaw. In the gym, the first trainer has a Fearow and the second has a Pidgey and a Pidgeotto. Falkner has a Pidgeotto and a Pidgeot. Finally in the Sprout Tower, each sage has a Bellsprout. The leader has 2 Bellsprouts and 1 Noctowl.
Ruin of Alph (From the Past)
This place is much the same as in the present. Unowns appear there and a scientist would battle you with a Ditto Lv. 30.
Route 32 (From the Past)
Wild pokemon appear as in the present. You could battle two youngsters and a fisherman here. The first youngster has a Nidoking Lv. 20, the second a Golbat Lv. 20 and the fisherman a Goldeen Lv. 20 and a Seaking Lv. 20. A Pokémon Centre is located near the Union Cave.
Union Cave (From the Past)
A cave where Zubats appear and chase you around :P A hiker challenges you with his Steelix Lv. 25 and a youngster would battle you with a Torkoal and a Luvdisc both Lv. 20. Another hiker on B/F has a Golem Lv. 40 and a Machamp Lv. 40.
Route 33 (From the Past)
It is a short route with only a hiker. He has a Geodude Lv. 20 and Machop Lv. 20. Going to wild battles and you might expect some evos to appear.
Azalea Town (From the Past)
Kurt does not make Pokéballs now. In the gym, the bugcatcher has a Parasect Lv. 25, and the twins battle you with a Ledian and an Ariados Lv. 20 in a double battle. Lastly Bugsy has a Metapod Lv. 30, an Ariados Lv. 30 and a Scyther Lv. 30.
You could also visit the Slowpoke Well. Encounter wild Slowpoke and it is the only way you could find a King's Rock.
Ilex Forest (From the Past)
Battle Farfetch'd Lv. 35 in the berry battle and you could get HM 1: Cut. A bugcatch at the exit battles you with a Ledian Lv. 25 and a Parasect Lv. 25.
Route 34 (From the Past)
A new area with new Pokémon like Drowzee , Ditto and Snubbull. After battling the girl's Granbull Lv. 30, Headbutt is given as a TM and you can now teach your pokemon the skill. Let them hit trees and you could find wild Aipom, Pineco and Heracross.
The city is now occupied by Team Rocket Reborn. All facilities are locked and you have to battle Whitney first. She has a Miltank Lv. 40 and some Clefairies Lv. 20. Simply beware of Miltank's Rollout, drag your Pokémon away after it starts attacking. Whitney will give you a TM: Attract.
After all go to the bike shop (southeast of the city) and battle the grunt. He has a Weezing Lv. 33 and an Arbok Lv. 33. Talk to the owner of the bike shop to get the bike. Another grunt outside the Game Corner (directly behind the Pokémon Centre) battles you with a Houndour Lv. 35, a Koffing Lv. 35 and a Houndoom Lv. 35. You can play Voltorb Flip, earn coins and exchange for items, TMs and Pokémons.
Finally go back to the centre of the city where you find the Team Rocket Roborn executives. Talk to Whitney to start the battle. The executives first send out a Houndoom Lv. 42 at the centre of the battle field. A number of pokémons go around counter-clockwise in the following order:
The Houndoom sometimes uses Flamethrower from a distance until Murkrow is defeated. It then goes around and becomes vulnerable. If you can't wait that long, you can also attack the Houndoom when it is either facing up or down, with pokemon that are right next to the NPC's that the Houndoom is facing.
After defeating them, a cutscene starts where Giovani shows up, telling the executives they are wasting their time and that he disbanded Team Rocket a year ago (proving he is still good at that moment). The purple haired and blue haired try to pick a fight, and the red haired try to tell them that they should leave, when, unexpectedly, Shadow Mewthree appears from what seems like a shadow version of a time portal. He knocks Giovani away and tries to use shadow capture on the Player, only to be stopped by Shadow Lugia, who breaks out of the Shadow capture. Giovani, seeing he was saved by the Shadow Lugia, follows it, almost in a trance.
You now have access to Goldenrod City's Pokemart, too...
Route 35 (From the Past)
Yanma is now available as wild Pokémon. A bugcatcher battles you with a Drought Ninetales, an Arcanine and a Magcargo.
National Park (From the Past)
Wild Scyther and Pinsir appear in the park. You can find a bugcatcher with a Beedrill, a Butterfree, a Pinsir and a Scyther. Sunkern is only found in the morning.
Route 36 (From the Past)
A route with no trainers. You can catch Nidorans, Stantler and Growlithe, while the latter chases you around. You can also go back to the Ruins of Alph and Violet City. A Sudowoodo can be found. Make sure you catch it as it is the only wild appearance in the game. The Sudowoodo blocks the path to Route 37 at the upper area of Route 36.
Route 37 (From the Past)
As in Route 36, Stantler, Growlithe and Nidorans appear here. A youngster challeges you with a Venomoth and a Hypno. (Uncertain if Growlithe is Gold-exclusive and Vulpix is Silver-exclusive, since I cannot find Vulpix in Gold)
Ecruteak City (From the Past)
Some Shadow Pokémon appear around the town. At the centre, Morty is wandering and thinking if Shadow Pokémon are ghosts as well. After a short dialogue he wants to battle with you. Morty first uses 3 Gastly, one at a time, at the right, left and bottom. After beating the Gastly, he sends out his Gengar at the top. After a while (seems when Gengar has 2/3 HP left), Gengar creates shadow to heal itself. At the same time all your Pokémon are sent away from the field. Beat the shadows quickly to prevent the heal (and of course you can attack Gengar simultaneously). The shadows appear from time to time, so work accordingly and it should not be too difficult.
Upon defeat, Morty gives you a TM: Shadow Claw. Another TM: Dark Pulse can be obtained behind Burned Tower.
Route 38 (From The Past)
There is a trainer who mentions mega evolving who has a level 45 Ampharos and a level 45 Golduck. During the day in this area, there are Meowths, Magnemites, Farfetch'd, Tauros, and Miltank, while during the night there are only Meowths and Magnemites.
Route 39 (From The Past)
This route is similar to Route 38, except that the trainer wonders about the appearance of Meowths. He has a Drizzle Politoed, a Kingler and a Raticate.
Olivine City (From The Past)
In Olivine City, the fifth city with a gym, you will find Jasmine, the steel-type Gym Leader of Olivine City and Chuck, the fighting-type Gym Leader of Cianwood City both in Olivine City. You will have to defeat both gym leaders in one battle to move on to the next part of the story.