When playing PTD2, there are shadow pokemon attacking. Slowly, this plot will lead you into something deeper, that (probably) threatens the world.
Towards the First GymEdit
The game starts off with you in a completly white area with no details at all. You have all three starter pokemon. Suddenly, shadow pokemon attack, and you are forced to defend yourself.
After beating the shadow pokemon, you wake up, realizing it was just a dream. Your mom tells you to get your starter pokemon from Prof. Elm, so you leave. On the way, people congratulate you for being able to get a pokemon.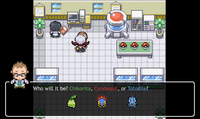 Your choice of a starter pokemon.
You enter Elm's lab, and he tells you to choose Totodile, Chikorita, or Cyndaquil. After choosing, you leave his lab. Immediatly, your starter runs away. You ask around to see if anyone has seen it, and all evidence points to that small area above New Bark Town.
You enter it, and you see all three starters, including yours, being attacked by shadow pokemon. You use your starter pokemon to defend the other two, and then report this to Prof. Elm. He calls the police, and then all exits are blocked off.
Silver, your rival, calls you over to do battle. You accept, and win. As if on cue, Prof. Elm calls you over again. You head over and recieve the PokePad. Heading out, you see Silver in a fight with a guard. He tells you to sneak out in to Route 29 while he distracts the guard.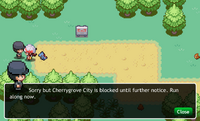 All the areas are blocked off due to the shadow pokemon attacks.
There are some pokemon like Hoothoot, Pidgey, Sentret, and Rattata for you to catch. You head over to Cherrygrove, noticing that there are guards blocking every exit here, too. Apparently, an attack of shadow pokemon is a major crisis. Speaking to the guard at the end of the route, Silver, Zai, and the Prof wiil come. Then, you will apear in Cherrygrove Town.Sometimes,Shadow Rattata and Sentret is in tree gaps And Shadow Hoppip and Pidgey is if you help Zai The Oran Berry Girl
Prof.Elm,Zai,Gary and Silver Needs help on how to defeat Zapdos along the others if you kill all pokemon exept Zapdos  ASH will be the with Lugia along with Giovanni with his Shadow Mewthree He wil Carture Lugia And onwards To Violet City. After beating zapdos, the elderly man standing at his house will give you the running shoes.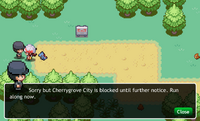 All the areas are blocked off due to the shadow pokemon attacks.
Upon Completing the Zapdos Challenge, you're rewarded with advancing into the next area, Route 30 where there are two houses you can not yet enter, signs that you can read, pointing out the directions. As well as that there are some more Pokemon to catch, depending on your game, if playing Gold you'll come across Caterpies, Metapods, Pidgeys, Rattatas and Hopp
ps in the morning and Hoothoots, Rattatas and Spinaraks in the night, but in Silver mode you will encounter Weedles, Kakunas, Ledybas, Hoppips, Pidgeys and Rattatas in the morning and Hoothoots and Rattatas in the night. 
The route directly after Route 30. Falkner waits at the end of the route, and you challenge him. After you beat him 'you will have access to Violet City and Falkner will go to his gym in Violet City. There is also a north entrance to dark cave.
Dark cave
It has no current involvement with the story. It contains Zubat and Geodude at all times. There is an occasional Dunsparce that will be in few waves of Zubat and Geodude.
Violet City
Edit
This is the first city with a gym. After beating Falkner, you can come here and have a rematch at the entrance of his gym. There is a sage running around panicing at the south right corner of Violet City. He will tell you that the leader was kidnaped. Go to sprout tower and defeat one of the shadow bellsprout. Go back to where you found the sage and talk to ash. Giovani will summon mewtwo and cause you, ash, gary, zai, silver, and the others into a dark and negative area. To escape, you have to beat lugia. The story continues south of violet city.
To the north left corner there is a man willing to trade a bellsprout for an onix.
Towards the Second Gym: The Spreading Shadow Pokemon
Edit
Ruins of alph
Edit
Go into the ruins and beat the Entei illusion and Shadow Unown.
You can encounter Wooper and Mareep when you fight them there will be 3 rare candies and 9 spots and 2 ways. There are also Hoppip and Ekans. Wooper comes at night and mareep for day. To the left is the ruins of alph and to the south is route 32 You find your first official mid-route trainer, the "happy fisherman", who has different pokemon each day of the week (Tentacool, Magikarp and Qwilfish). By beating one type of fish for all 15 waves, you get the old rod. For beating all 3 fish pokemon, you get the good rod. At the bottom of Route 32 there's a path. Go through the path, there will be a cutsene, after that you will have to fight a clone of Mewthree. If you lose, then you will say that you dreamt that Mewthree captured you, so don't worry if you lose. If you do beat the Mewthree clone then you will return to Route 32. Celebi will apear and tell you that it brought you back to the time before Mewthree's attack and says that it will need to recharge before you move on.