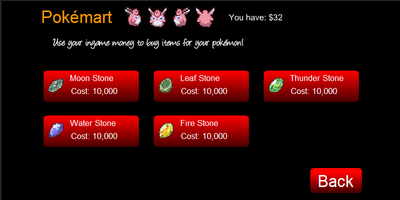 The Pokémart is the place where a player can buy various items for use in-game in PTD 1. They sell Evolution Stones.
Evolution Stones
An Evolution Stone is a powerful object which can trigger an evolution to certain Pokémon. The evolved form will be stronger than its previous form but will learn attacks at later levels. A Pokémon that evolves with a stone can evolve at any level. These Stones cost 10,000 Pokédollars as also seen in the picture above.
Moon Stone
Leaf Stone
Thunder Stone
Water Stone
Fire Stone
Ad blocker interference detected!
Wikia is a free-to-use site that makes money from advertising. We have a modified experience for viewers using ad blockers

Wikia is not accessible if you've made further modifications. Remove the custom ad blocker rule(s) and the page will load as expected.