Rocket Hideout
Previous level
Celadon Gym
Next level
Pokemon Tower 1
Objective
Train by going up against Sam's Pokémon.
Money Rate
x2
Description
Erika thanks you for defeating Celebi and herself. The three of you wonder where Celebi went. Erika reveals the next place to be attacked is Saffron City, and you decide to go visit Team Rocket's old hideout at the Game Corner. Erika says she'll join you in Saffron City once she's gotten some rest.
You and Joey try to get into the Game Corner, which is locked for some mysterious reason. Bruno and his Hitmonlee break open the door (while kicking Joey into the wall) for you and the secret entrance to the basement is revealed. While Bruno goes to play the slots, you head downstairs and into the hideout.
You meet Sam, the creator of PTD, who says he's there to train you. You accept the challenge to train against his collection of Shiny Pokémon.
After attempting the level, your Potion will be upgraded, now healing 50 HP per Potion. You do not have to beat the level to gain this feature.
Layout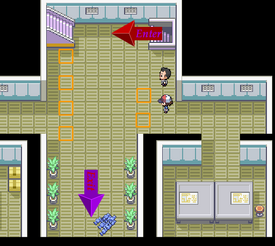 Waves: 47
Spots: 6
Defending: Rare Candy (10)
Pokémon
Sam's Pokémon consist of two Shiny versions of each obtainable Pokémon (as of v4.3) at its final evolution, including Tangela (used in the Celadon Gym (Challenge Level)) and all the Mystery Gift/Achievement-exclusive Shiny Pokémon. He does not have Rapidash or any other Pokémon seen only in the cutscenes, or any of the legendaries. Furthermore, due to the level cap at the time of the level's release (Level 52), the final wave consists of two Dragonair, as Dragonite was not yet available back then.
A list showing the order of Sam's Shiny Pokémon in the level and the move they use: