Ad blocker interference detected!
Wikia is a free-to-use site that makes money from advertising. We have a modified experience for viewers using ad blockers

Wikia is not accessible if you've made further modifications. Remove the custom ad blocker rule(s) and the page will load as expected.
Route 3

Icon for the Level
Previous level
Pewter Gym
Next level
Viridian Forest 2
Objective
Catch Wild Pokémon
Enemies
None
Exp Rate
x1
Money Rate
1 Per Wild Pokémon Defeat
The 6th level in PTD 1 and the first level in Chapter 2. This is a training level and therefore has no objective, but you can try to catch some Pokémon.
Layout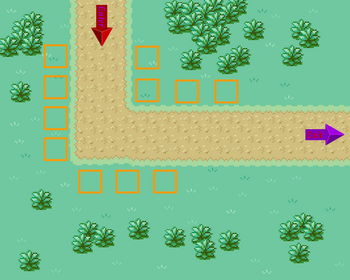 Waves: 30
Spots: 11
Objective: Catch Wild Pokémon
Pokémon
| Red | Level | Encounter Rate | Blue | Level | Encounter Rate |
| --- | --- | --- | --- | --- | --- |
| Pidgey | 6-7 | 30% | Pidgey | 6-7 | 30% |
| Spearow | 6-8 | 35% | Spearow | 6-8 | 35% |
| Nidoran M | 6-7 | 10% | Nidoran M | 6-7 | 5% |
| Nidoran F | 6-7 | 5% | Nidoran F | 6-7 | 10% |
| Jigglypuff | 3-7 | 10% | Jigglypuff | 3-7 | 10% |
| Mankey | 7 | 10% | Mankey | 7 | 10% |