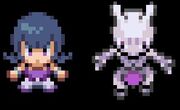 Sabrina is the 5th Gym Leader at Saffron Gym, preferring Psychic-type Pokémon. She is usually seen wearing a wristband with a green pattern on both hands. She fell victim to Mewthree's mind control until the Player freed her and her partner, Mewtwo.
Appears In
Team
Trivia
In the Saffron City cutscene, the Snorlax carrying Maruto claims to be tired of carrying "this lady," proving that it saw through Sabrina's disguise.
Ad blocker interference detected!
Wikia is a free-to-use site that makes money from advertising. We have a modified experience for viewers using ad blockers

Wikia is not accessible if you've made further modifications. Remove the custom ad blocker rule(s) and the page will load as expected.