245: Suicune

Type(s)

Base Stats
HP
100
Sp. Atk
90
Attack
75
Sp. Def
115
Defense
115
Speed
85
Exp
215
Money
200
Pokémon
← Previous

Next →

Normal Sprites
Description
Suicune is an elegant, slim, blue panther-like Pokémon with white diamond-shaped spots and a white underside. Suicune has a purple, cape-like mane that resembles a northern aurora or a flowing river, and two white streamer-like tails. It has a long, white snout, and unlike Raikou and Entei, its teeth are blunt, as if those of a herbivore. It has a hexagonal, aquamarine-colored crest on its forehead, red irises, a protrusion on the underside of its chin, and small paws. Its paws also have a small white oval on their undersides.
Sam made a poll in July 2011 to see if the players of PTD wanted the 3 Legendary Beasts to be officially and permanently put into the game. In Alpha v3.4 of PTD 1, all Legendary Beasts were removed from everyone's accounts (except for the 10 winners of Sam's Vermillion Gym contest) and released into the wild with an appearance rate lower than Shiny Pokémon. However, as the game became finalized, the Legendary Beasts were later removed from the wild in Alpha v0.8 of PTD 1 and all previously obtained Legendary Beasts were changed to their Shiny forms.
Location(s)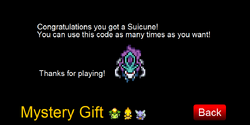 Vermillion Gym: Cutscene (Uncatchable)
Mystery Gift code (PTD 1) gs9014z1
Any route or area in PTD 2 in the wild, once you beat the game, the encounter rate changes to 1/100
Shiny
Shadow
Ability(s)
Pressure: The Pokémon raises the foe's Attack cooldown.
Water Absorb: Restores HP if hit by a Water-type move.
Trivia
Suicune was available, along with Raikou and Entei, in Alpha v3.3 of PTD 1 as a Mystery Gift.
Suicune, along with Raikou and Entei, was once available in the Daily Gift but was later removed.
Along with Raikou, Entei, and Victini, Suicune is not available in Generation 1, but is in the trade system in PTD 1.
Along with Raikou and Entei, Suicune was available in any level with wild Pokémon for capture, but was later removed in Alpha v0.8 of PTD 1.
All Normal Raikou, Entei, and Suicune were changed to their Shiny versions in Alpha v1.0 of PTD 1.
Their Shadow forms were removed from the Game Corner, but are still available in the game via trading with someone that got a Shadow one from the Game Corner back then.
Move Set
Damage Taken
Ad blocker interference detected!
Wikia is a free-to-use site that makes money from advertising. We have a modified experience for viewers using ad blockers

Wikia is not accessible if you've made further modifications. Remove the custom ad blocker rule(s) and the page will load as expected.