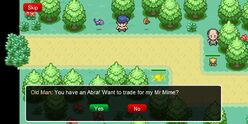 In-Game Trading takes place in certain levels of PokémonTower Defense. It is based on trades available in the original games. Unlike in the games, however, these trades can be made more than once.
Method
Trades are offered upon successful completion of the relevant level. The player must not skip the end cutscene, but instead simply click "Next". A character known as the Old Man will enter and offer a Pokémon for a certain one the player used in the level (i.e. the Pokémon used an Attack move at least once during the level; it does not need to stay on the ground for the duration of the level). The Pokémon received will always be level 1.
If the player trades a Shiny Pokémon, the received Pokémon will be guaranteed to be Shiny.
If trading a Shadow Pokemon, you will get a Shadow Pokémon in return. In all the cases, trading is the only in-game way to obtain the relevant Pokémon.
Available Trades
Pokemon Tower Defense: Generations
A far man in Violet City has a Onix nicknamed Rocky and to get that Pokémon from him, you must have Bellsprout as your primary Pokémon in your party. (Trading Shiny/Shadow Bellsprout will give you Shiny/Shadow Onix in return.)
Ad blocker interference detected!
Wikia is a free-to-use site that makes money from advertising. We have a modified experience for viewers using ad blockers

Wikia is not accessible if you've made further modifications. Remove the custom ad blocker rule(s) and the page will load as expected.