Description
The Vermillon Gym Challenge Level is a version of the Vermillion Gym level without the Tentacruel (the rest of the waves are mainly Machop, etc.), but the Pokémon are much stronger (Lvl. 40).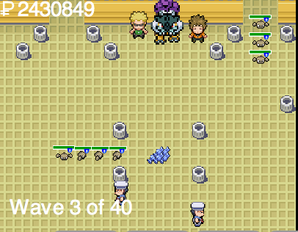 You are awarded a Raikou Avatar Hat upon completion.
You get the Suicune Avatar Hat for winning with 2 or more Rare Candies left.
Achievement Tips
For Entei Avatar Hat (Win without wind), the moves Roar and Dragon Tail also turn the Pokémon around.
For Suicune Avatar Hat (Needs More Candy), let the 2 wild Geodude get the Rare Candy. DO NOT let all the Geodude get all the Rare Candy!