The World Tournament are the final 4 levels in
PTD 2
, in which you require to have all 8 
Gym
 Badges in PTD 2 to enter it. It is similar to the
Elite Four
and seems like PTD 2's version of it. First off, you battle a series of strong Gym Leaders from other generations, Wattson (Electric-type), Roark (Rock-type) and Cilan (Grass-type). However, the fourth round trainer is not a Gym Leader, it is Darkness, a spitting image of
Silver
 (Albeit With a Shadowy Aura) who uses various
Shadow Pokémon
. For these rounds, there were rules, like you can only use 1
Pokémon
 for the fourth round and what not.
Sam
 now made the 4 levels easier due to people requesting him to do so. Every person that you battle will have a strong Pokémon that are very annoying and difficult to defeat, which also learn PTD 2-exclusive moves. Wattson has a Mega
Manectric
, whereas Roark has a
Rampardos
; Rampardos uses a move that is capable of fainting any Pokémon in your party with one strike. For Cilan, the Pokémon you should be extra wary of is
Venusaur
. And Darkness, the final opponent's most powerful Pokémon is Shadow 
Lugia
, beware of its deadly homing gust attack.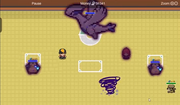 Ad blocker interference detected!
Wikia is a free-to-use site that makes money from advertising. We have a modified experience for viewers using ad blockers

Wikia is not accessible if you've made further modifications. Remove the custom ad blocker rule(s) and the page will load as expected.