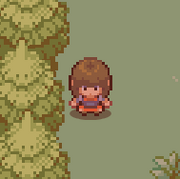 Description
Zai is a young girl with an uncanny fascination for berries. This obsession comes in quite handy as she is often on hand to heal your wounded Pokemon during battle.
It can be speculated that Zai is a second rival, since she has the starter Pokémon that you and Silver had not chosen.
Appears In
Route 29

Zai first appears in Route 29, where you must help her to defend her Oran Berries against some wild Pokémon. Later when you talk to the Guard infront of Cherrygrove City, she appears along with Silver and Professor Elm. She has an argument with Silver, but they're calmed down by Professor Elm.

Cherrygrove City

In Cherrygrove City, the group encounter the birds and Gary. Gary says you and Silver have to defeat the wild Pokémon. She will heal your Pokémon during the level's challenge. After you finish, Zai will appear in the City and can be talked to. However, she still appears in Route 29, where you can help her defend the Oran Berries she collected.

Violet City

Zai decides to take care of Silver when he begins feeling ill.
Team
If the Player chooses Chikorita...
If the Player chooses Cyndaquil...
If the Player chooses Totodile...
Quests
Zai's quests are one of the first aspects of the game to be influenced by the Morning, Day and Night time scheme.
There are three different quests that get progressively more difficult as the day goes on. The Morning quests are the easiest, Day time is slightly more difficult and you encounter the highest level wild Pokémon during the Night quest. While the first quest does not have any direct reward other than experience, the Day and Night quests include the chance to capture a Shadow Pidgey and Hoppip respectively.
Morning Quest
Wild Pokémon include:
Day Quest
Wild Pokémon Include:
Night Quest
Wild Pokémon include:
Trivia
The name 'Zai' is derived from Sam's wife, Zaira.

As a result, Zai often calls the player 'Bunny', which is a reference to the nickname Zaira gives Sam.
Ad blocker interference detected!
Wikia is a free-to-use site that makes money from advertising. We have a modified experience for viewers using ad blockers

Wikia is not accessible if you've made further modifications. Remove the custom ad blocker rule(s) and the page will load as expected.